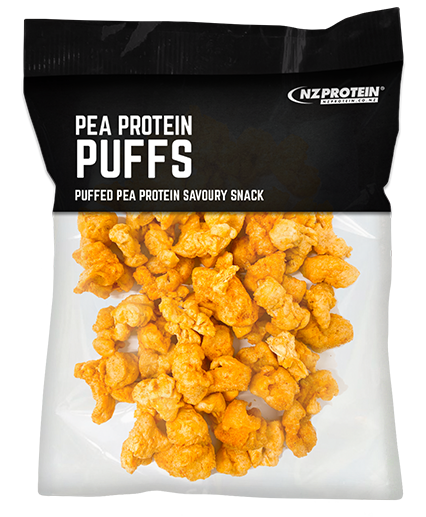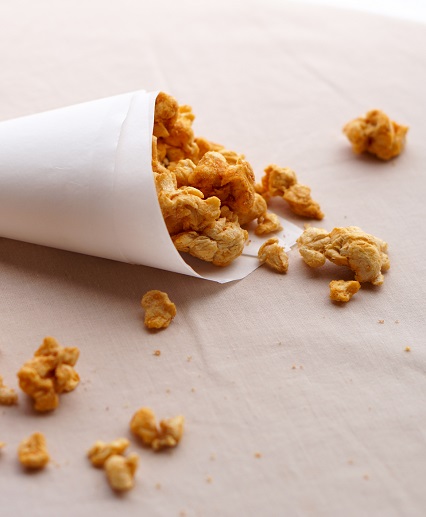 Pea Protein Puffs
Puffed Pea Protein Savoury Snack.
Puffed Pea Protein Snack
NZ Protein's Pea Puffs are a plant based snack that are high in protein and low in carbohydrates. Available in three great tasting flavours, they make a better snack and even go well in school lunches.
Each pack is a big 75 grams and has three servings, with around 11 grams of protein per serve.
The puffs are naturally soft in texture and coated in seasoning.
Pea protein is an excellent source of protein because it contains all essential amino acids and is easily digestible. It's made from yellow golden peas and is vegan friendly and hypoallergenic.
This product also contains MCT oil. Medium Chain Triglycerides (MCTs) are high quality fats that are more easily and rapidly digested than other types of fats. They're rapidly absorbed and are used as quick energy for the body, rather than for storage*.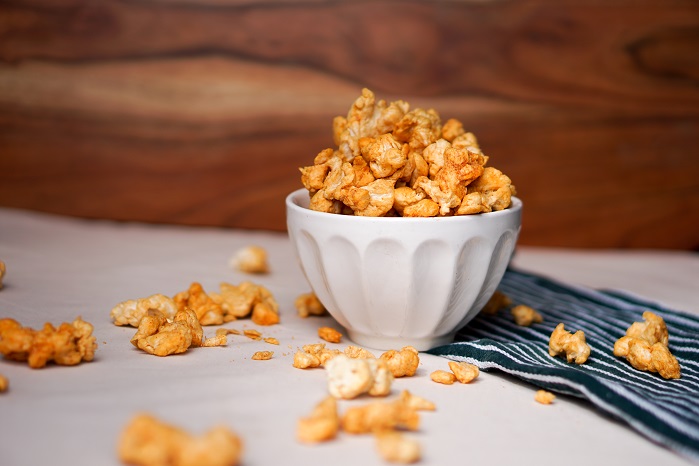 ---
Rated
3.54
/
5
Based on
28
customer reviews.
Good flavour, ok consistency.
Not the tastiest thing you'll ever eat but pretty good for an easy savoury high protein snack.

Reason for the low score is that it made me very ill, I had bad nausea and cramps for a couple hours after eating these, so beware as they might not be agreeable for you.
At first I wasn't too sure but by the end of the bag I was addicted. Could be a stronger salt and vinegar flavour but still yummy.
I thought these would be crunchy but they we're almost stale like chewy. Threw them out
low carb alternative of popcorn. Taste good
Really, really did not like the consistency with this one. Initially the taste and texture is OK, but after chewing, it kind of feels like wet chewed up paper in your mouth. Very hard to swallow, will not buy again.
Soft texture, the odd crunchy one. Pretty happy for a plant protein snack
Gross 🤮
Delicious!I got the chicken flavour, and I could've eaten the whole bag at once
Personally wasn't a fan. A few were crunchy a few were soft and I wasn't keen on the texture. Will stick to the other great products from this company :)
I love the pea protein snacks, not crispy, but super tasty... they remind me of soft pork crackle snacks
I love these, even though I find they are like a cross between eating popcorn and thin cardboard!
They are so light you get a lot for a 20g portion, ideal study snack. Flavour is not overpowering too which is my thing.
Not for me unfortunately
Soooooo good! Great substitute for popcorn, the flavour isn't super strong but it is tasty and feels like a guilt-free snack.
The flavor is really good and it is pretty satiating. Low stars because the bag I received was 60% crumbs, ended up sprinkling it on salads lol, which was nice but not the reason I bought.
I really like the taste of these. The first bite I didn't know what to make of it. The texture is a little like popcorn or a bit softer. But after eating a couple of them they really grew on me and I ate the whole pack. I've tried both flavours and chicken is my go to and they're made from pea protein, awesome.
Really chewy and a bit soggy with unpleasant taste. Not a great snack
These are tasty but not quite crunchy enough, so I put them in the oven to crisp up for a few minutes & had them with some low carb dip, yum :)
Fast shipping and great concept but not a fan didn't like the texture and taste
While the flavour was nice (BBQ) I didn't enjoy the texture as they were a bit soft and turned into a weird texture after chewing. Didn't finish the bag so wouldn't get these again.
Tried the BBQ and really happy, definitely something I could snack on long term as it's more savory than sweet, REALLY want to try to salt and vin
Love this product! So awesome to have a salty snack option that is so low in carbs and high in protein. I've been adding these to salads to give extra texture and flavour. Can't wait for the salt and vinegar flavour to be in stock!
I was a bit disappointed in this product... texture was soft and spongy rather than crisp so didn't work for me as a replacement snack for potato chips. Flavour was good though. NZPROTEIN REPLY: they're more like popcorn in texture as opposed to potato chips
love the taste, when you have one it's hard to stop eating them
Not for me unfortunately didn't enjoy the taste. Fast shipping.
these are really great! ive been through 2 bags now and just put an order in for 3 more lol. They are in different packaging to whats pictured but there was a sticker on the pack that said "temporary packaging". 5*
Woa the chicken is JUST the same as chicken chips from the supermarket I already ate the whole pack lol
YUM THESE ARE GREAT!!!!!
Omg these are soo good, I ate the whole pack. I like the BBQ but my partner likes the chicken ones.

They're just like chips. They're crunchy, yum and the pack is bigger than I thought. It's like one of those big backs of chips from the supermarket.
Click on a flavour to see the nutritional information.
Serving Size: 25g
Servings Per Pack: 3
| Name | Ave Quantity Per Serving | Ave Quantity Per 100g |
| --- | --- | --- |
| Energy | 503kJ | 2013kJ |
| Calories | 120 | 479 |
| Protein | 11.6g | 46.5g |
| - Gluten | 0g | 0g |
| Fat - total | 10.1g | 40.4g |
| - Saturated | 9.1g | 36.4g |
| Carbohydrate | 0.4g | 1.7g |
| - Sugars | <0.1g | 0.1g |
| - Fibre | 0.3g | 1.3g |
| Sodium | 175mg | 702mg |
Ingredients: Pea Protein, MCT Oil, Sodium Diacetate, Salt, Citric Acid, Sweetener (Sucralose).