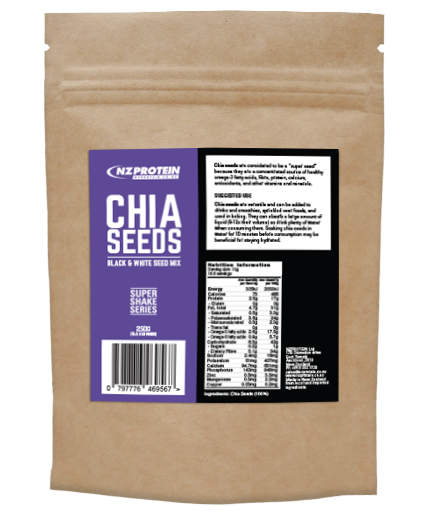 Chia Seeds 250g
Super Seeds for Super Health*.
Chia seeds are tiny black seeds that are high in omega-3 fatty acids and fibre.
Chia translates to "strength" in Mayan. They are considered to be a superfood due to the numerous health benefits that come with consumption.
Chia seeds are also vegan and a great plant based protein source.
Benefits of Chia Seeds
Chia seeds may be small, but they are packed full of many nutrients. Some of these include calcium, magnesium, phosphorus, copper and zinc.
Additionally they are high in antioxidants. This prevents them from going rancid but can also protect humans against degenerative diseases.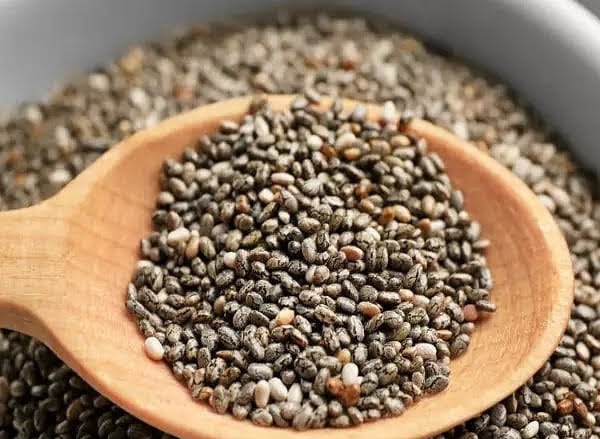 Chia seeds are 40% fibre. They have more fibre per 100 grams than oats, corn and rice! This means they will make you feel full and can promote the growth of good bacteria in your gut.
Increasing your fibre intake has been shown to lower cholesterol and reduce risk of heart disease. The high fibre content can be especially beneficial for those with gut issues like constipation.
Adding chia seeds to your baking causes a lower blood sugar response and can help you feel fuller for longer. This is great for type 2 diabetics.
Chia seeds are considered a low carb food because most of the carbohydrates come from fibre which is not absorbed by the body.
They are also a source of protein. One 28 gram serving of chia seeds contains four grams of protein and all the essential amino acids.
Taste & Texture
Chia resembles small, oval shaped black seeds. The seeds are able to absorb large quantities of liquid and form a thick gel. This property makes them very useful in baking. They act as an excellent thickener or egg replacement. Those who are allergic to eggs or vegan can use chia seeds instead of egg in recipes.
Chia seeds have nutty flavour. The taste is very mild meaning you can include them in recipes without them overpowering the other ingredients.
Chia seeds are quite a versatile food. You can use them for flavour or texture depending on the recipe you want to create.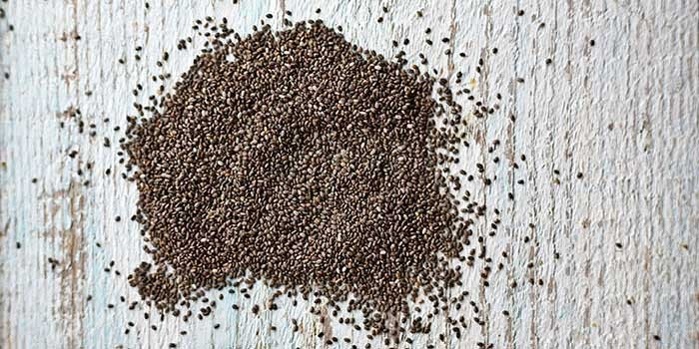 Suggested Use
Our recommended serving size is 15 grams however it does depend on how you are using the product. Some recipes will require a smaller or larger portion.
15 grams of chia seeds contain only 73 calories and 2.5 grams of protein. This amount will provide 5.1 grams of fibre.
If intestinal motility is an issue for you, then around 25 grams of chia seeds may be more appropriate.
We recommend sprinkling chia seeds on top of cereals or smoothie bowls.
If you wish to get more creative then see below for some delicious recipes.
Conclusion
Chia seeds are called a functional food for a reason. Not only are they a great vegan source of protein but they come with other additional benefits like antioxidants and fibre.
If this isn't reason enough to add them to your diet, they also make for a great thickener in recipes or a mild nutty flavouring.
Our chia seeds are well priced and have only received 5/5 star reviews thus far.
Recipes
---
Rated
5
/
5
Based on
7
customer reviews.
Great value for money. Have switched from buying my chia seeds from the supermarket top buying it from NZ Protein exclusively.
good value
First time buying this in years. Awesome price, awesome product will continue to buy
Good quality.
These are fantastic for digestive regularity without any of the side effects of other things. I got these to put in a "healthy" shake. NZ protein provides high-quality whole seeds. It is a good source of healthful oils (particularly the omega-3 fatty acid ALA) and a range of minerals and vitamins.
This is my first time trying chia seeds.
It really goes with hummus, yogurts, salads and etc.
Great :)
Another great value product from the team at nzprotein! you guys rock, this is a great price for a great product. Ben
Serving size: 15g
Servings per pack: 16.6
| Name | Ave Quantity Per Serving | Ave Quantity Per 100g |
| --- | --- | --- |
| Energy | 305kJ | 2033kJ |
| Calories | 73 | 486 |
| Protein | 2.5g | 17g |
| - Gluten | 0g | 0g |
| Fat - total | 4.7g | 31g |
| - Saturated | 0.5g | 3.3g |
| - Polyunsaturated | 3.6g | 24g |
| - Monounsaturated | 0.3g | 2.3g |
| - Trans Fat | 0g | 0g |
| - Total omega-3 fatty acids | 2.6g | 17.5g |
| - Total omega-6 fatty acids | 0.9g | 5.7g |
| Carbohydrate - total | 6.3g | 42g |
| - Sugars | 0.2g | 1g |
| - Dietary Fibre | 5.1g | 34g |
| Sodium | 2.4mg | 16mg |
| Potassium | 61mg | 407mg |
| Calcium | 96mg | 631mg |
| Phosphorus | 142mg | 948mg |
| Zinc | 0.5mg | 3.5mg |
| Manganese | 0.3mg | 2.2mg |
| Copper | 0.03mg | 0.2mg |
Ingredients: Black and white chia seeds.