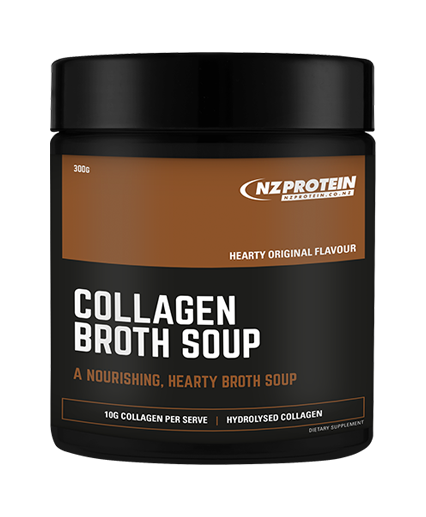 Collagen Broth Soup 300g
A Nourishing, Hearty Broth Soup.
Collagen Broth Soup SG
NZProtein's Collagen Broth Soup makes a nourishing soup when added to hot water. It's packed with yeast extract and vegetables for that natural hearty soup flavour.
It can also be blended into smoothies.
Each serve has 10 grams of hydrolysed collagen in it. Just add one serve to 250ml of hot/boiling water in a mug and stir in.
Collagen NZ
NZProtein's Collagen is a concentrated protein supplement for joints, bones and skin. It's collagen from beef (bovine) that's been hydrolysed into an easily dissolvable, rapid-digesting form.
Collagen is the connective tissue that accounts for up to 30% of proteins in our body. It forms the elastic netting that supports the protective tissues in joints, and is essential to giving skin elasticity and strength.
Collagen Hydrolysate provides a unique combination of amino acids in concentrated levels which are specifically needed by the body to support connective tissue structure and maintain healthy cell function.
It may be beneficial for:
• Joint tissue health and reduced inflammation
• Healthier skin and hair, and stronger nails (anti-aging)
• Bone density
• Gut health and improved digestion
• Improved sleep
Please note that this product is processed in a facility that also handles milk, egg, soy, peanut, and gluten ingredients.
---
Rated
4.93
/
5
Based on
42
customer reviews.
The collagen bone broth is a great protein top up. A mug of delicious hot beef broth is the perfect thing for a cold wintery day. I will be buying again.
high end product for not a high end collagen price thanku
It tastes really good - a little sediment in bottom of cup? Time will tell if I feel the benefits- collagen is supposedly very good for our joints!
Love a hot cup of broth especially when it's cold ,so tasty too, I enjoy
great product, easy to use, palatable, hope it works going forward :)
I add this daily to my kefir .
Healthy and Tasty!!!
Happy chappie
Tastes good. And great for you.
Absolutely amazing list of ingredients. I use it instead of beef stock powder. Very happy with purchase.
Lovely and rich.
Great taste and a good supplement to get through the initial post-fast period.
Been useing for over 12 months .
Only this l use in all things..
From stirfry to casseroles soups AND DRINK etc .
BRILLIENT HIGHLY RECOMMEND..AND SERVICE FAST DELIVERY
This is really yummy, an easy tasty and filing cuppa for those times when reaching for something sweet.
I have been useing the collagen broth for over 12 months .l use it as drink ..in stirfry ..casseroles..soups ..every day ..I truly feel the benifits of it ablecto do heaps more and very little pain from arthritis..skin improved immensely.
Highly recommend this product and this company .
I have been useing this for over 12 months . I use it in soups ..stir fry ...casseroles... and on its own .
It aids flovour . easily disolves and adds lovely flavour to the dishes..Highly recommend product .Order 1 day next day it arrives. .Great service always.
Delicious and healthier soup in a cup! A little saltier than I'd like but just add a little more water. Might buy another for my parents to try.
Lovely tasting broth.
Delicious 😋 used 2 scoops per cup makes it yummy
Best tasting bone broth I've tried. It even kept me feeling full in between meals,great for fasting or needing to bump up my protien. I need to order double now though,my mates got into it too,I'm out lol. Great product,so good on these cold days too.
Soooo glad I found this. Replaces my afternoon coffee. Perfect for winter and tastes so good!
I have been buying This ..Collagen Broth Soup for 2 years ..it's is really great ..l add it to stirfry and soups and slow cooker meals ..To enrich our meals making them tasty and nutritious.
I was initially suspicious when I bought this but wanted a warm and healthy drink (other than miso soup) that I could have through the winter. This ticks all the boxes and I am now the envy of all my work mates. Rate it
Amazing product - love the hint of pepper!
Super delicious!!! So hearty and not at all overpowering or weird like I thought a broth powder would be like. I really enjoy every cup!!!
Good taste
My favourite collagen broth just like a cup of soup yummy
Delicious
Tastes amazing. Will definitely be purchasing again.
This broth is fantastic. I love the slightly peppery taste. It's a staple in our household.
Best collagen product I have used. Taste delicious and I'm very sensitive to taste, will definitely be buying again.
A real hearty and down to earth favourite, I really look forward to drinking this everyday with a couple of rye crackers and marmite it is just a perfect snack!
really like it, doesn't smell as though it will be strong, but tasty and easy to drink :-)
I love the taste and ease with how the collagen broth soup mixes. Has had a huge positive affect on my gut and joints. Highly recommend. Super fast delivery. Great cuppa after lunch or any time.
Love this ...
Collogen Broth soup..l use it in stirfry .soup and as a drink to boost us ..
Buy it for my daughter too..She loves it .Best way to buy it ..fast and great service
Love it as a drink or as a flavour boost
Excellent can't get enough of it
Absolutely love this stuff! It's tasty, like a beef kind of flavour? And the fact it's only 44cals per serving and filled with collagen is a bonus! Great for cleanse days or days when your fasting. Great quality for the price also! Will definitely be purchasing this again!
Collagen Broth Soup is yummy. Found it a bit intense using 3 spoons to a cup so used 2!
Can't get enough of this stuff! 10/10
YUM!!! Amazing price, amazing ingredients list, amazing PRODUCT!!
It's an ok brew, feels healthy.
This soup is awesome. It's the best on the market!!!! Beats all the broth soups I've tried. Tastes like beef Maggi noodles juice! I have two a day, it's that yum!
Hands down this beats all of the collagen broths on the market!!!! I've just had a gastric bypass surgery 2 days ago and honestly I've tried every collagen product I can before surgery and this stuff smashes the others out the park for sure!!!
Serving size: 15g (3x level scoops)
Servings per pack: 20
| Name | Ave Quantity Per Serving | Ave Quantity Per 100g |
| --- | --- | --- |
| Energy | 186kJ | 1241kJ |
| Calories | 44 | 292 |
| Protein | 10.5g | 70.1g |
| - Gluten | 0g | 0g |
| Fat - total | 0.2g | 1.5g |
| - Saturated | 0.1g | 0.5g |
| Carbohydrate | 0.8g | 5.1g |
| - Sugars | 0.4g | 2.8g |
| Sodium | 687mg | 4584mg |
Ingredients: Hydrolysed Collagen (Bovine Origin), Yeast Extract, Salt, Gelatine, Onion, Garlic, Black Pepper.