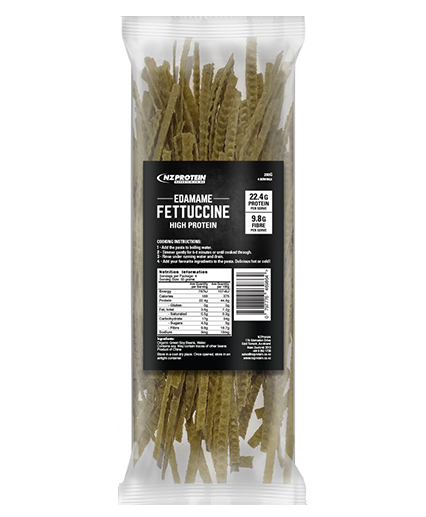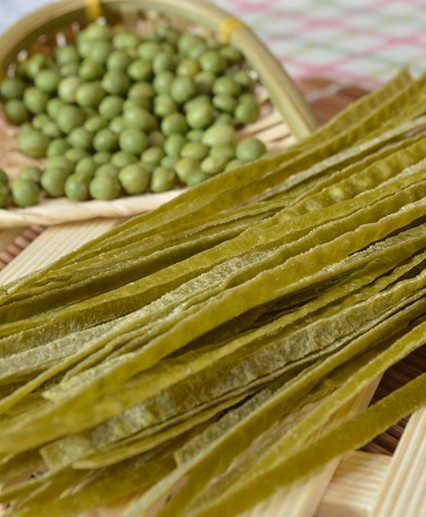 Edamame Fettuccine
High Protein Healthy Pasta.
High Protein Healthy Pasta
Edamame Fettuccine is made from 100% organic green soy beans and water. It's
High in protein (22.4g per 50g serve)
An excellent source of fibre (9.8g per 50g serve)
Low carbohydrate
Naturally gluten free
Vegan friendly
Simply boil in water for just 6-8 minutes. Delicious hot or cold!
Recipes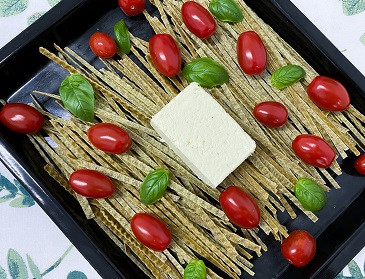 Baked Feta Fettuccine
A quick and delightful recipe for edamame fettuccine that'll leave the whole family wanting more.
View Recipe
---
Rated
5
/
5
Based on
19
customer reviews.
Amazing
great product will definitely be buying more
Amazing texture, really faithful to Fettuccine.
Great flavor profile while still adheres to whatever is added onto it.
Will buy again =)
Perfect for a vegetarian trying to increase protein intake. Subtle flavor that works well with any pasta sauce. Very impressed with macros.
Yum, loved it. Will always sub my usual pasta for this now
Fantastic. Such a great alternative packed full of goodies
Delicious products and very good value!
Really great pasta, tastes amazing and has a really good texture.
Glad I tried this - easy to swap with your old pasta. Good texture and chew. Very filling.
Loved the taste and texture of these. Will be purchasing more
Very easy cook, tastes great! Love the recipe you have with feta on the website.
Easy to cook & really tasty
Tastes like pasta, plays well with most cooked meals, microwaves well at work and delivers a great amount of nutrition.
Love this Pasta! Tasty and healthy and high in protein!
Now this is fantastic great flavour so delicious
Tried this for the first time with this recipe: https://www.halfbakedharvest.com/better-than-takeout-szechuan-noodles-with-sesame-chili-oil/
Both the recipe & the Edamame Fettuccine were tasty & made for a perfect combination.
Tasty, good texture & love that they are a high protein source. From this first use, I'm sure they will be a perfect replacement for all other pasta dishes. I look forward to having more tasty pasta!
I will be buying more again & keen to try the Black Bean Spaghetti next.
And with fast overnight courier, top service from the NZ Protein, whats not to love. Keep up the good work team!
Yum! Goes with everything pasta would usually go with and even my kids like it. The edamame one is my fav. Have got this before from the supermarket but this is always delivered fast and it's around the same price!
Such a big fan! I was dubious at first, but they cooked to the texture of "normal" fettuccine, and they had no real taste at all! It was awesome
Loved it! Has the texture of fresh fettuccine pasta and tastes great mixed with spaghetti bolognaise. Will definitely be reordering.
Serving Size: 50g
Servings Per Pack: 4
| Name | Ave Quantity Per Serving | Ave Quantity Per 100g |
| --- | --- | --- |
| Energy | 787kJ | 1574kJ |
| Calories | 188 | 376 |
| Protein | 22.4g | 44.8g |
| - Gluten | 0g | 0g |
| Fat - total | 3.6g | 7.2g |
| - Saturated | 0.5g | 0.9g |
| Carbohydrate - total | 17g | 34g |
| - Sugars | 4.5g | 9g |
| - Fibre | 9.8g | 19.7g |
| Sodium | 9mg | 18mg |
Ingredients: Organic Green Soy Beans, Water.
Contains soy. May contain traces of other beans