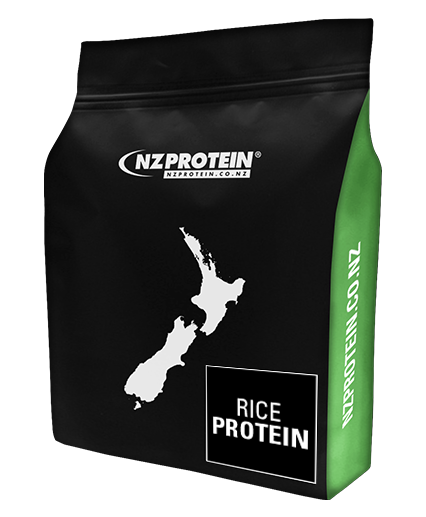 Rice Protein 1kg
Very Hypoallergenic Plant Based Protein.
Rice Protein Powder SG
NZProtein's Rice Protein is a very hypoallergenic plant based protein powder that makes an excellent alternative for vegetarians, vegans, and anyone with a sensitive stomach - whether lactose intolerant or allergic to dairy.
It's extracted from brown rice using enzymes which separate the protein from the fats and carbohydrates.
This results in a protein powder that has an excellent amino acid profile and low carbohydrates and fat. In fact, it contains all of the essential amino acids and is a complete source of protein.
Rice protein, being plant based, is a slower digesting protein powder than the ever popular whey. Despite this, studies have found no detectable differences in results from whey vs rice protein supplementation after resistance training, indicating that rice is a very good source of protein.
Rice Protein Powder Benefits
Gluten free, dairy free, and hypoallergenic
GMO free
High protein / low carbs & fat
Contains all of the essential amino acids and is a 'complete' protein
Comparable with whey for muscle growth and repair
High in Branched Chain Amino Acids (BCAAs)
Mixes easily
Can work in baking applications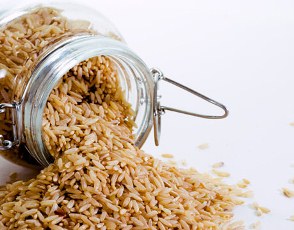 Rice Protein vs Pea Protein
Protein Per 100g

~80g

(BCAAs: 18g)

We don't add any fillers (or "processing aids") to dilute the protein level.

~80g

(BCAAs: 15.1g)

We don't add any fillers (or "processing aids") to dilute the protein level.

Overview

A very hypoallergenic plant protein for vegetarians, vegans, and anyone with a sensitive stomach.

The most popular plant protein.


Complete Protein?

Taste

Has a thicker texture when mixed and a natural grainy/chalky texture. For best results mix in a blender with fruit.

Some grainy-ness, but easier to drink than rice protein.

Mixing

Not instantised but mixes easily in water and other liquids.

The powder is very light and fluffy and can make a mess, so care should be taken. It can be mixed in a handshaker or with a spoon.


Not instantised but mixes easily in water and other liquids.

Mixes easily in water or your favourite liquid without lumps. It can be mixed in a handshaker or with a spoon.

Cost

<$1.50 per serve.

<$1.50 per serve.

Summary

Best suited to those with sensitive stomachs or vegans who do not want to use pea isolate.

Best vegan replacement for whey if avoiding milk.
Taste and Mixing
Rice protein mixes thicker than milk proteins and has a natural grainy/chalky texture. For best results mix in a blender with fruit. Also works in various baking applications.
Suggested Use
Consuming high quality protein at regular intervals throughout the day can encourage a positive nitrogen balance, aid recovery, and help to increase metabolism.
Depending on your nutritional requirements take 1-3 servings daily at breakfast, between meals, post workout, or before bed.
Recipes
Please note that this product is processed in a facility that also handles milk, egg, soy, peanut, and gluten ingredients.
---
Rated
4.08
/
5
Based on
25
customer reviews.
Great for thickening up smoothies while adding protein and no flavour. Also the price is great compared to others on the market!
This protein powder mixes up pretty well. I need to add cocoa powder to mask the chalky taste.
Good quality product, very fine powder so good texture in drinks
Tastes gross, but happy with the service a delivery.
I am so happy that I discovered a protein powder that works for my IBS. I drink this in my banana, peanut butter smoothie with lactose free milk and it works for me.
This is the best plain pea protein I've found in NZ. A similar product from another supplier (rhymes with Pulk Bowders) tastes like how kitty litter smells and while I normally just chug my protein anyway that one was a challenge. Also nice that it is not shipped in from Australia! I plan to continue buying this as my go-to pea protein.
Tried rice powder for a change. Not as fine as kaba beans however still fine enough for baking & smoothies. Kids love the flavour better. Overall great product and for those wanting non dairy protein intake | versions ... Highly recommended
Great protein as I have a lot of gut intolerance but tastes pretty bad. Still worth it for me. Be great to see a flavour added to this product.
Seems ok,but the taste take's a bit of getting used to.I had been using hemp but needed a change.I will persevere with the rice version.
I love this because it doesn't make me feel ill or tired.

Make sure to mix it with a lot of water, because if you mix it with too little water, it will taste bitter. But if you mix it with a lot of water, it will taste very mild and almost like nothing. It mixes well in water if you stir it a bit.
So love it. I have a long list of allergies and couldn't find a protein powder that met my needs. Stoked to have a option.

Taste is ok and easily dissolves in water.!
I love this product! It's a great plant based alternative to Whey with no nasties. I'm not a fan of it in smoothies as it's chalky and unflavoured but Ive found a way of preparing my porridge, adding a bit of nut butter and ginger and cinnamon with one scoop of rice protein that makes it delicious! If you're prepared for it not to be sweet and can find a way to add it in to your food it's a great addition to your diet, especially if you're macro counting 😀👍
It does not taste nice! It has a bitter taste and aftertaste. I only use it to get more variety in my protein intake as most plant-based products are pea or soy. I have to mix it with a nice-tasting protein to be able to consume it.
Great protein powder, easy mixing and not much of a flavour.
I bought the unflavoured and for me this is very bitter. I know some people do not notice the bitter taste as much as others but its very strong for me - to the point where it is hard to consume anything with much of this in it. I am having trouble finding ways to mask the bitterness so I can use up what I bought. Any hints for getting rid of the bitterness would be appreciated. It seems a great product otherwise. I suggest trying a sample first before buying.

NZPROTEIN REPLY: we would like to note that this product is for those who cant have any of our other proteins due to allergies or other intolerances so if you are used to whey or any of our better tasting proteins we would definitely suggest getting a sample first.
My first time using protein powder. So far seems good. I have the unflavoured protein, which is an ok taste on it's own, but I preferred mixing it with banana or berries and/or GF weetbix.
Would definitely buy again
Mixes well, but it has a strong taste
Smooth, but the rice flavor is strong when mixed 50/50 with other flavored products
I have been using this product for aprox 3 years and have made many gains. High in protein, low in carbs and fat. Doesn't taste great....but I prefer over pea. I drink it fast, it works for me in regards to my muscle gains/maintenance. I think of the benefits rather than the actual flavour. Also NZ Protein are so great to purchase from, great affordable products and super fast delivery! Have never let me down, a big thanks to the NZP team!
A really excellent product. I have had whey for years as part of my diet when competitive bodybuilding and power lifting. I went off whey because of the heaviness, and wanted some lighter alternatives.
If you are used to having flavored powders that you just add to milk, you might be in for a bit of a surprise. But once you find what it works with, it is fantastic - it might take some experimenting, so be patient!

I find it to be a really light shake without the heavy feeling. I enjoy having it with a 40g scoop of rice protein, 100g of frozen berries, about 250ml of cold water, and 50g of banana - super refreshing and hydrating. Give it a good go before passing judgement :)
Very good.
An unpleasant flavour that was not easily masked even when blended with other strongly flavoured ingredients. Plus, resulting in a thick unpalatable texture so needs to be heavily diluted. Would not buy again.
ZZZZZZZING!

Best protein thus far. Prefer this to pea protein as it does not have much sediment that collects at the bottom. Blends well in nutribullet w just water. Tried the flavoured salted caramel based on other reviews. Recommend - is not overly sweet like other brands.
This is a great non-dairy alternative. It has a neutral flavour and none of the usual sweeteners and flavourings that my stomach can't handle. I've been buying it here for a while now and it's the perfect protein supplement for me. I recommend it to anyone who has allergies or sensitive digestive systems.
Great alternative to using dairy products. Goes well in a smoothie with frozen berries and banana. Gentle on the stomach and great for someone who has a lot of "allergy issues" A+
Click on a flavour to see the nutritional information.
Serving size: 31.25g (2 heaped scoops)
Servings per pack: 32
| Name | Ave Quantity Per Serving | Ave Quantity Per 100g |
| --- | --- | --- |
| Energy | 502kJ | 1607kJ |
| Calories | 120 | 384 |
| Protein | 25g | 80g |
| Fat - total | 1.7g | 5.3g |
| - Saturated | 0.8g | 2.5g |
| Carbohydrate - total | 2g | 6.3g |
| - Sugars | <0.2g | <0.5g |
| Sodium | 21mg | 68mg |
| Calcium | 131mg | 419mg |
Ingredients: Rice protein powder
(mg per serving - unflavoured)
Branched chain aminio acids:
| | |
| --- | --- |
| Isoleucine | 1220 |
| Leucine | 2630 |
| Valine | 1800 |
Other essential aminio acids:
| | |
| --- | --- |
| Lysine | 1010 |
| Methionine | 950 |
| Phenylalanine | 1830 |
| Threonine | 1190 |
| Tryptophan | 280 |
Non essential aminio acids:
| | |
| --- | --- |
| Histidine | 820 |
| Alanine | 1770 |
| Arganine | 2400 |
| Aspartic Acid | 2830 |
| Cysteine/Cystine | 850 |
| Glutamic Acid | 5640 |
| Glycine | 1380 |
| Proline | 1430 |
| Serine | 2600 |
| Tyrosine | 1600 |