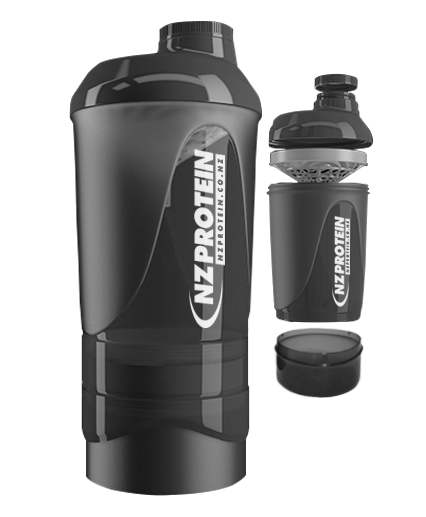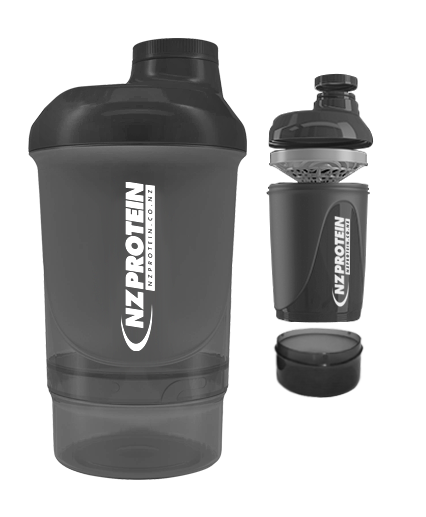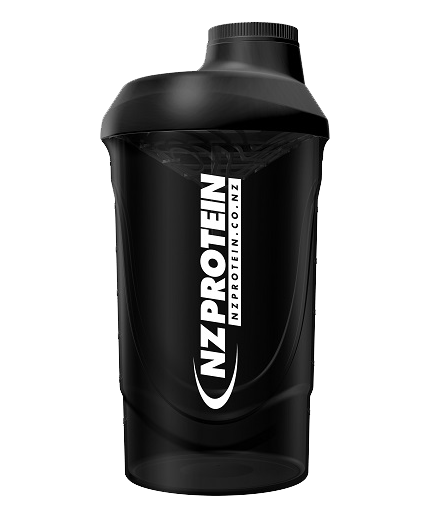 Wave Shaker
Protein Shaker Bottles, 100% Leak Proof From Europe.
The Best Protein Shaker Bottles
We're pretty sure that we have the best protein shakers in New Zealand. Made all the way in Europe, they're built tough and resist wear so they stay looking new even after continued use.
But the best part? They don't leak. You can feel safe putting them in your car or your gym bag knowing that they're not going to ruin all your stuff.
Model

Wave +

Wave Mini +

Wave XL

Generic shaker for comparison


Capacity

700ml

(Measurement up to 500ml)

450ml

(Measurement up to 300ml)

800ml

(Measurement up to 600ml)

~800ml

(Measurement varies)

Storage Compartment

Yes, 150ml

Yes, 150ml

No

No

Leak Proof?

Goodness no! Maybe at first, but mostly they start leaking and ruin your stuff


Fits in Cup Holder?

Yes

Yes

No (but doesn't leak, so can be put safely in a car or bag anyway)

Usually (fortunately, as they're best kept upright)

Mixability

Mixes well with no mixing ball required

Mixes well with no mixing ball required

Mixes well with no mixing ball required

Mixing balls are required, creating more dishes to wash

Safe in

Microwave, dishwasher and freezer safe

Microwave, dishwasher and freezer safe

Microwave, dishwasher and freezer safe

Nothing. Dishwashers are catalyst for wear


BPA, DHE Free?

High quality, non-toxic plastic

High quality, non-toxic plastic

High quality, non-toxic plastic

Typically

Colour

Black lid with black frosted body


Black lid with black frosted body

Black lid with black frosted body

Any


Made in

Europe

Europe

Europe

Asia

Cost

$12


(Or free as a gift if you spend >$200)

$12


(Or free as a gift if you spend >$200)

$12


(Or free as a gift if you spend >$200)

n/a. We don't stock mediocre shakers

They Don't Leak
Wave protein shaker bottles feature a softer plastic in the cap and lid. The result is a perfect fit between the screw cap, lid, and bottle. This unique manufacture method completely prevents them from leaking.
Easy to Twist
Easy twist technology make our shakers smoother to use than ever. The small cap and big lid both twist, so you can rest assured knowing that the lids or caps aren't going to pop off and leave an accidental spillage in your car or gym bag.
Effective Shaking
An arched screen gives a larger surface area, and allows a higher rate of flow of liquid across it. This means that our wave shakers blend more effectively without even needing mixing balls.
Caps Aren't Connected to Lids
Wave protein shaker bottles feature caps that aren't connected to the lids. Because there aren't any additional plastic pieces attached to the lid or cap, there's nothing to cause nose or forehead disturbances while drinking. This makes our wave shakers more comfortable to drink from.
---
Rated
4.78
/
5
Based on
157
customer reviews.
Landed in a rough career but doing a great job.
Really good quality, I use it everyday for protein and just water in general
Great bottle, easy to use, easy to wash.
Really great bottle, haven't tried any other shaker bottles but can say I don't regret it.
Great purchase
Purchased the mini, perfect size for my need. Love the screw on cap as opposed to those clip on onese. Was a bit worried at first that it wasn't going to mix it properly but between the powder and the shaker and minimal effort it works perfectly and the shake ends up smooth.
Easy to clean, handy storage container.
perfect size for the protein powders
These are great having the seprate cup to store my protein makes it so easy to travel
Super efficient delivery! Had ordered on the weekend and arrived Monday morning. So far tried the Mango & Vanilla flavours, both are delicious! My son said the Mango tasted like a Mango icecream shake. The shaker is sturdy & leakproof, does the job. Will definitely order again!
Real handy for taking to work , love it
It's a great shaker but a bit small for your average shake size. NZPROTEIN REPLY: we have 3 sizes available from small to large :)
Does the job
High quality and works very well
Awesome convienient
doesn't leak
perfect just what I needed
Exactly what I was after! Much more durable to previous ones I have used 😊
Great products. Love that its NZ made!
Love the shakes, protein powder mixes really well in it. Tastes really nice the banana choc flavour.
Excellent delivery time and I live rural.
Works as expected
I normally take a cup full of milk for my protein drink and this small size is the best fit for me.
The shaker is sturdy and mixes the powder well
Not as high quality as I was expecting, cup on the bottom isn't tight. Shaker insert isn't as good as the normal stainless balls. NZPROTEIN REPLY: these don't need mixing balls :)
I prefer the screw cap lids in these shakers. They can come off in the dishwasher though if loose. But I put mine in the dishwasher every day and it's still going strong.
Decent shaker
Excellent product great for after workout
This is a great shaker. Most importantly it doesn't leak and is very easy to clean.
leak proof, great shaker
A fantastic shaker, very easy to hold and carry with the storage cup on the bottom. Love the way the cap comes off completely and dose not just pop up. Best of all the Study material it's made of its dropping it does not cricket
Does not leak and goes in the dishwasher
Great product
Love this shaker! Would recommend to others.
Biggest thing is it comes apart and cleans really easily, no more stinkiness! Would be better if it wasn't plastic.
Great shaker...easy to use and a good size!
Got the small, perfect size, shakes well, easy to clean
Great shaker - does the trick! Also like how it has twist container to hold protein powder, to make later in the day.
Good leak proof design . Bulky but well built
Good shaker. Really like it.
Only issue I have is it does leak a little bit.
Good value for money - did the job perfectly
Very good shaker, leak-proof, easy to clean and lightweight
Perfect size and good quality
Really enjoy the wave shaker, nice and compact unlike previous ones that were a bit bulky. The only issue I have is that the one I purchased tends to leak a bit, might be a issue with the cap during manufacture. Apart from that I would say it's a wonderful shaker. NZPROTEIN REPLY: should not leak, remedying.
Brilliant shaker
Great shaker, went for the Wave XL and no complaints. Mixes my shakes perfectly. Do wish I'd gone for the mini, though; the XL is actually just kinda way too big, at least for me.
Great shaker, quick to mix your protein and has a handy container at the bottom for protein storage on the go :)
Love mine works so well and just so practical
It seems all good so far. My son has taken it to a week long swim meet, that'll be the real test :)
Great shaker with a seperate compartment to keep the powder fresh
Really handy with the storage compartment under.

Be careful with the blender it breaks easily
Good quality, cute colour, A+
Nice and easy to use and clean.
Love the shaker, haven't used anything like it before. So easy to clean and breaks the protein up nicely
I got the mini and it mixes so well with not much room in there! Love the mixing grate, less noisy and mixes way better than a metal ball.
Perfect size for smaller shakes. Love the compartment for the powder. Brought this for my daughter and works perfectly to take smoothies to school. Does not leak!
Easy to use, especially with the measurements up the side. Pretty standard, easy to clean
Great product 😊 shame I ordered the smaller one by mistake!
Brilliant gadget totally leak proof for the work bag and taking the powder in the base to mix at lunchtime is cool too.
Epic shaker, great quality plastic and nice to dink from. Its super handy having the ability to keep your protein separate when you are on the run also!
Excellent product and great service
Great shaker - no issues and gets rid of lumps
works great.
It's great.Handy size for me.Easy to clean and handy little storage compartment to store protein.
It's okay. The bottom compartment has a flimsy twist latch instead of screwing in completely. Have spilled a full compartment of powder a couple of times just picking the shaker up. Other than that it's just a regular shaker.
It's worth it.
Turns my Protein powder and milk into a milkshake (well kinda) in a matter of moments. I'd recommend it.
Beautifully shook up shake! Great mouth piece & little storage area/cup
Great shaker, works well.
No complaints, does what it's meant to do
Love the colour. Works fantastic
Perfect
I purchased yellow bottle and it doesn't has spring ball now, protein powder still good even if is without the spring ball.
I am return customer, 2nd time purchase this shaker
Works wonderfully, easy to clean and great design
I love these shakers - they mix really well and don't leak. The storage container on the bottom is a bonus too as is the fact they are dishwasher safe. Only negative is that the mesh grill is quite fiddly to put in place, but that's not so much of a big issue with practice.
Good small shaker. Doesn't leak. I like the little compartment at the bottom, very handy.
So good to be able to store the powder in the bottom to use when ready. So easy to clean!
works well, great size and love the green
Perfect size, inner mixers design works a treat
It's great. Can take the powder and have the right amount ready to make up quick and easily where ever I am. Insert ensures it's blended well.
My only issue is that I should have bought the larger size, I didn't realise how small this one would be!
Shakes your powder. What more do you need?
The wave shaker has been life-changing. It's robust, easy to clean, and keeps my protein powder with my water so it's easy to make up when I'm in a hurry. I'm going to buy another for my electrolytes too. It also carries just the right amount of powder in the bottom so I don't have to weigh out the powder every morning.
Thanks!
Great stuff. No leakage and great storage. I've been using it everyday.
Great to make your shake.
Great product and fast delivery
Good one, I appreciate this product because, it didnt leak, how hard you shake.
Great products, protein powder is yummy, delivery was exceptional, so fast, will definitely be buying from here again.
This shaker is awesome haven't had any issues with clumping yet, best thing is it's dishwasher safe so chuck it in the dishwasher. Also found the compartment underneath is handy when out and about.
Misleading color. In the picture shown in their site, the shakers are in glossy/metallic colors but what I received is an opaque and dull green shaker.
Great product works perfectly and soo easy to clean
Love it. only thing is that I can see myself losing the lid which would be annoying.
Absolutely love all of the products and powders.
Convenient and mixes well, just wish it came in 1litre size too
Excellent shaker, much better than other ones that I have purchased in the past. Handy little compartment attachment at the bottom. Would highly recommend to others
There's no joke when they claim this is the best shaker.
Mixes perfectly with no mixer ball
Easy and convenient to wash.
I'm never going back, this shaker is from the protein gods
Mixes well, easy to use & easy to clean
Great little unit. Screw lid means no chance of the it popping open in my backpack like other brands do..and have.
Works way better than my old one that had a metal spring/coil in it.
Great shaker and love the detachable compartment to store protein in
I got the mini wave. Perfect size for one serving. Love how the screw cap and screw lid won't leak. Other shakers have a push down cap which isn't secure. Storage compartment for powder means you can mix it fresh right when you want it
Have been using NZ Protein products for 3 yrs.I highly Recommend there products & Service.Dave has never let us down with the Fastest & most consistant delivery service of all my vendors.Great work Team.
Very sturdy shaker. No spills and easy to clean 🙂
Perfect size and love that has separate bit for putting your powder in.
One of the best shakers I've had, it's leak-free and no clumps. It's also a good size - not too big so easy to take to work and the gym.
Very easy to use - mixes well, easy to clean - exactly what I wanted. I would recommend this product
Got the XL in error but I actually prefer it - great size. Leak proof. And the plastic thingy is really good at preventing lumps
I've never owned a protein shaker before as I normally mix my shakes at home in a blender and throw in a banana. Having just returned to NZ I'm in managed isolation, therefore don't have a blender and this thing is absolutely brilliant. I use the old teeth method for disposing of the banana but, this is mighty with NZprotein and it was complimentary. I'm super stoked and mightily chuffed at the same time.
Only gave this a 4 because the mesh piece in the lid is quite fragile and cracked in transit to me. Otherwise has a good powder storage compartment at bottom and mixes protein shakes well so they are creamy.
Very good baker bottle, i like that it doesn't have the metal ball. And the storage underneath is very convenient.
Absolutely love that I can take my protein with me and not have to take the whole tub.
Great shaker. I like how the 'mesh' is fixed in the shaker.
a+
Perfect apart from the cap should be attached to the shaker, easy to lose especially when washing. Very good otherwise
Study and easy to use
Super Fast delivery, Great service
Perfect size!
Great size, and nice and easy to use I love it
Great quality shaker, no leaks and feels very sturdy. Will be a useful addition to the collection!
Love it! Perfect for work and on go protein goodness!
Perfect size and easy to use. Blends powders well with minimal shaking.
Loved it!
Mixes well, very good shaker
Easy to use, great design.

I do wish that the cap attached to the shaker some how through

But overall, very happy with the shaker.
Simple and effective shaker, mixed up the pea protein really well.
It's a shaker and it does it's job well, I just wish there was slightly more room in the storage container at the bottom of it.

Otherwise it works great and I've not run into any lumps in my shake yet!
It?s good just the shaker part a little fiddly for correct placement
I like the storage for extra powder in the base, but would be better if it was screw-on as less likely to come off in your bag.
Great shaker, no lumps or leaks and easy to drink from.
Great product, does what it says!
Love how you can have your powder separate until your ready to mix it.
Great shaker, can't fault it. It mixes well and it is handy having the extra compartment to store the powder until needed.
Perfect companion to my gym/lunch bag, the ability to carry your protien with you under the bottle is very handy, that's why I grabbed 2....
Easy clean and feels good in the hand for its size. Cap may get lost if not careful tho
Great quality product that mixes shakes well. Compartment on the bottom is also super handy and contents stay dry when you're cleaning the shaker with the bottom part attache. Well worth the price :)
Love it! Mixes my protein powder really well and is easy to clean.
Works great!
very good and practical shakers
Im enjoying it easy to clean
Great size and especially love the compartment at the bottom where I can keep my protein. Thank you!
Love the lid and the... sieve type inner to ensure no lumps. Nice to have a shaker that doesn't leak!
Perfect container for intended use!
Excellent, doesn?t leak and easy to clean!!!
Shaker is awesome. Far better than any other shaker I have used before. Highly recommend.
Definitely my favorite shaker! So convenient with the compartment for an extra serve of protein powder or almonds.
Great shaker
Easy to use and easy to clean
Easy to clean, hand shakes everything well, does its job.
Mixes like the dream, great product
Great product
I have the old version of this shaker and it was awesome! Good size and a curve at the base which stopped your powder from sticking to the bottom. This new one is too small and no longer has the curved base. The screw top is still nice though.
Good shaker but rendered useless once the cap goes missing as it isn't attached like most shakers and is rather easy to lose.
Awesome as. Easy to clean. We love the filter vs the metal ball (it always gets stuck in everything).
Truly no leaks! Took a while to work out how to screw the top on properly but once sussed it works a charm. Easy cleaning is a bonus.
really good shaker! leak proof, good size. overall really impressed. will definitely buy more from nz protein!
Best Shaker I've ever had!


Works like a charm, no leaking.
It's a shaker, and works great!
Good quality, though doesn't fit in my cup holder
I found it hard to screw the lid on at first, but I got the hang of it and now it's easy. Wouldn't change a thing about the lid cos it doesn't leak even a drop
Love these shakers, first ones that don't leak!
I got 2 of these together as in the past shakers dont last that long for me, but these ones are really tough. i think i could probably stand on it, i put it through the dishwasher and leave it out all day sometimes and there's no smell or no wear. i even put it in my gym bag upside and it doesnt leak at all. 100% recommended best shaker there is