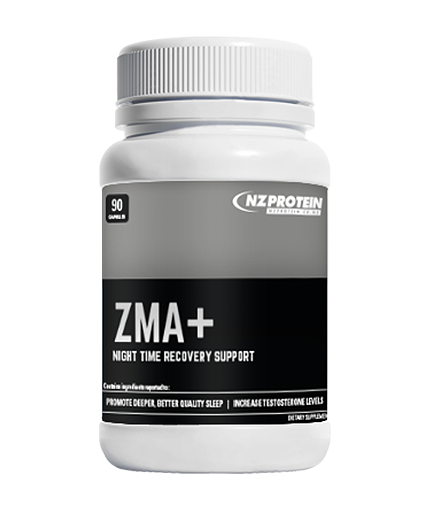 ZMA+
Night Time Recovery Support Supplement.
Night Time Recovery Support
NZProtein ZMA+ is a mineral supplement containing zinc, magnesium, and vitamin B6.
This combination has been reported to increase anabolic hormone levels and muscle strength in athletes, and improve recovery (from improved quality of sleep). ZMA is one of the most popular hormonal and sleep supplements available and stacks well with creatine, glutamine, and other strength & recovery products.
Piper Nigrum (Black Pepper Extract) has been added to improve absorption of these in the body.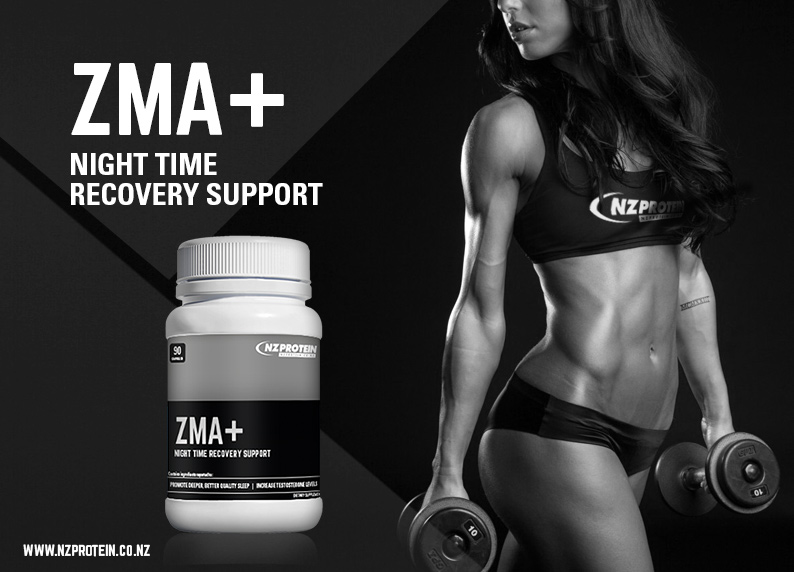 Suggested Use
Take 2-3 capsules daily, ideally on an empty stomach 30-60 minutes before bed, or as otherwise directed. For best results men should take 3 capsules daily. The recommended dosage for women is 2 capsules per day.
---
Rated
4.71
/
5
Based on
17
customer reviews.
I have been a user of your protein powder for a few years and anyway after reading the reviews on the ZMA, thought I would give it a go. Well, honestly I don't know how this stuff works but I am having the best sleeps ever since taking these. I am staying in a deeper sleep longer and waking up more refreshed and more get up and go. So, yes this product does what it says..
Nice product, works!
Perfect combo to help my tired muscles.
i actually have been getting the best sleep i ever had, holy moly i didn't realize most adults are like magnesium deficient that's why our sleep are so fucked most of the time

i fall asleep faster, and woke up not feeling sluggish!
Best sleeps since starting shift work
Definitely by far the best combination and strength on the market! I have already noticed a change in my skin and quality of sleep. As per usual NZ Protein had ridiculously fast shipping to Chch which is always appreciated! Thanks team
Great product and value compared to other ZMA in New Zealand. Recommended and you guys have the best shipping too. Thanks.
Best tasting protein powder ever. Tastes like a caramel milkshake. Love it!
Very effective in assisting anyone who has trouble sleeping and desires natural support. Also eliminates cramping for me.
Great.
This has really helped my sleep and recovery; since taking ZMA I am now getting a full nights sleep and I seem to fall asleep more easily. Will definitely continue to use NZProtiens ZMA
Update:

Yeah so the magnesium in this is really low quality. Basically after about a month of use I could barely control my bowel movements. Turns out magnesium oxide is an active ingredient in most laxitives... Once it got to the point where I couldn't trust a fart I knew it was time to call it. Once I stopped and purchased new higher quality magnesium the problem stopped. I did also mention this to nz protein who haven't seemed to have gotten the memo. Just a buyer beware plug NZPROTEIN REPLY: the magnesium in this is actually on the higher end of digestibility. We're sorry you had this issue but we've had no other reports of this
Love the combination in this supplement. Very effective without taking 3 different products.
Great product,helps with my sleep.
Well I'm three weeks deep into taking these. I've also been cutting for four and I can say this:

My sleeps have been better - I feel better overall,less tired and more energetic
My lifts have been going up even during the cut
And I'm suffering a little less DOM pain after heavy days (not much but the legs aren't fire and fury like usual).

Seems to work! I'd recommend giving it a go
On my third bottle of this and my lifts have been going up so worth trying for sure
Great product like all of the NZ Protein supplements that I've used. I get a good natural nights sleep and they're very similar to (old) line of ZMA that Cellucor used to make.
Serving size: 3 capsules for men (2 for women)
Servings per pack: 30 for men (45 for women)
| Name | Ave Quantity Per Serving | Ave Quantity Per 100g |
| --- | --- | --- |
| Magnesium (from Citrate and Oxide) | 500mg | - |
| Zinc (from Citrate) | 30mg | - |
| Vitamin B6 (from Pyridoxine HCl) | 10.5mg | - |
| Piper Nigrum (Black Pepper Extract 50:1) | 6mg | - |
Ingredients: Other ingredients: gelatin, encapsulating aid.