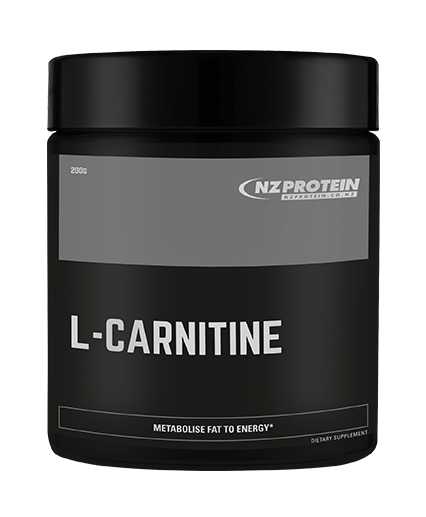 L-Carnitine 200g
Metabolise Fat to Energy.
Carnitine SG
L-Carnitine is an amino acid that plays several roles within the body, one being to metabolise fat to energy.
As L-Carnitine may help to burn fat, it may also assist in weight loss.
It does this by assisting the transfer (or "shuttling") of fatty acids from the blood into the mitochondria where they can be oxidised ("burned") to produce energy.
In addition, L-Carnitine is reported to transport toxic products out of the mitochondria.
L-Carnitine L-Tartrate may also be beneficial for post exercise recovery as it has been reported to improve recovery after intense weight training and exercise by reducing muscle damage, possibly due to its interaction with androgen receptors.
Carnitine Supplement
There are several types of L-Carnitine. The two most common types are L-carnitine L-tartrate and acetyl L-carnitine.
This product is pure L-Carnitine L-Tartrate, which is rapidly absorbed and is the most common form for sports supplements. The acetyl type appears to provide other benefits for neurodegenerative diseases and the brain.
Many other carnitine products on the market contain acetyl as it's a more pleasant form to consume however it is not the best type for sports supplements.
Carnitine Foods
Some foods contain small amounts of L-Carnitine. Animal products are the best sources and redder meats typically contain more carnitine.
| | |
| --- | --- |
| Food Type | L-Carnitine |
| Beef (steak/ground) 100g | 50-160mg |
| Chicken (breast) 100g | 3-5mg |
| Pork 100g | 25-30mg |
| Milk (whole) 1 cup | 8mg |
| Cheese 100g | 3-5mg |
| Fish 100g | 3-5mg |
| Bread (whole wheat) 2 slices | 0.2mg |
| Asparagus 1 cup | 0.2mg |
Adults that consume a varied diet including meats typically ingest 60-180mg of L-Carnitine each day. Vegans tend to obtain less carnitine from food sources because they avoid consuming animal foods. Vegans tend to ingest just 10-12mg each day.
According to studies the absorption rate of carnitine ingested from food is higher (57-84%) than that when taken from a supplement (14-18%). However, the recommended serving of our carnitine supplement is 2g. Therefore according to this study 280-360mg of carnitine may be absorbed per serve - which is far higher than that obtained typically from food.
Suggested Use
For fat loss it may be beneficial to take L-Carnitine with your largest meal of the day.
For muscle growth, performance, or recovery it may be beneficial to take L-Carnitine before and after your workout with carbohydrates.
Add up to 2 grams (1/2 scoop) to your favourite beverage and drink prior to exercise to promote fat burning and endurance, or after exercise for recovery. The daily dose can be divided between the two.
This product has a natural fish like smell and for this reason we recommend adding it into a flavoured beverage. Please also note that the product is 200 grams (100 servings). The containers we use are generic so the containers will appear only half full of powder but this is normal.
Carnitine Side Effects
While there are no known side effects we recommend this supplement is not used by pregnant or breast feeding women, or those under 18 years old.
*Please note that while every care is taken, this product is processed in a facility that also handles milk, egg, soy, and gluten ingredients.
---
Rated
5
/
5
Based on
10
customer reviews.
Awesome product, highly recommended!
A helpful product to assist body fat metabolism. I feel more energetic when taking it when working at reducing body fat. And props to NZ protein for the speed they deliver-orders seem to arrive before I have ordered them!
Excellent product, fast delivery and down to earth price. 5 Stars
Best value l-carnitine powder in NZ.
Pure product that does what it says. A+
I may be imagining it, but L-carnitine really does seem to accelerate weight loss (or it could be my NZ protein influenced high protein diet?). Whatever it is, I'm taking it! Don't mind the odd flavor-it's kind of bracing.
I like this product. It does have a fishy smell but no fishy taste! Has a bit of an acidic taste, I like to take it with the BCAAs as they are sweet, adds a nice sour element to them! Found when I was on a keto diet, I lost more weight when taking this.
Amazing delivery!
Very cost-effective. Just started using it first time so tell you later.
great to recover after exercise!
Serving size: 2g (1/2 scoop)
Servings per pack: 100
| Name | Ave Quantity Per Serving | Ave Quantity Per 100g |
| --- | --- | --- |
| L-Carnitine L-Tartrate | 2g | - |
Ingredients: L-Carnitine L-Tartrate.